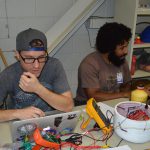 The Louisiana Aerospace Catalyst Experiences for Students (LaACES) program is the statewide, scientific ballooning project designed and implemented by the Louisiana Space Grant Consortium (LaSPACE) at LSU funded by NASA's National Space Grant College and Fellowship program. The primary goal of LaACES is to give students hands-on experience with a full life-cycle of a scientific, flight project.  Students at higher education institutions across Louisiana participate in a program that provides them with technical skills vital for any science and engineering career, as well as with professional-level experiences with project management, experiment construction, data collection, analysis and interpretation, and finally presenting scientific information to the public.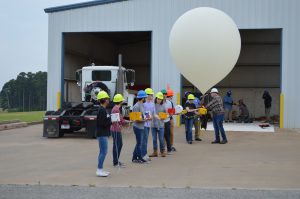 A Student Balloon Course (SBC) curriculum has been developed by the LaSPACE team to guide the participating teams throughout the program. The SBC includes a series of lectures and hands-on activities to help build student skills in basic electronics, sensor interfacing, real-time programming, mechanical development, and project management.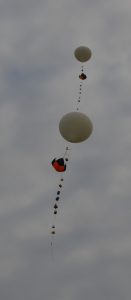 As students move deeper into the course, they begin applying these skills to the design, development, fabrication, and flight of a small (~500 gram) balloon payload. The students are required to document and orally defend their progress during four (4) reviews (Pre-PDR, PDR, CDR, FRR). Qualified payloads from all student teams are flown to 100,000 feet using a helium-filled latex sounding balloon launched from the NASA Columbia Scientific Balloon Facility (CSBF) in nearby Palestine, Texas. Following flight, the students analyze their data and then present and defend their results to an audience of CSBF engineers, technicians, and staff, as well as students and faculty mentors from participating peer institutions.
Since 2005, the LaACES program has launched over 60 balloon flights with more than 135 student payloads attached.  Thirteen higher education institutions in Louisiana have participated in the LaACES program reaching more than 500 students across the state.